About Us!
Aren't trash cans supposed to stink?
According to TRASHCO's CEO, John Wyche, the answer is an emphatic "NO"!
And you shouldn't get sick from handling them either, states Wyche, who founded the Florida-based green company in October 2009 to clean trash cans. Today, TRASHCO cleans residential garbage cans and commercial dumpsters across South Florida. TRASHCO has also expanded its services to include trash rooms and fleet washing.
Who Is John Wyche?
John is committed to preserving our environment for future generations
Parent and family man
Entrepreneur
Former professional football player
Defensive Back, Florida State University
Former Trustee Member, Lauderhill Regional Chamber of Commerce & Proud member of the Green Committee
Former Trustee Sunrise Chamber of Commerce
We at TRASHCO promise to do our part too, by providing local communities with:
Cost-effective, non-toxic, bio-degradable solutions for cleaning trash receptacles and the proper disposal of sludge and wastewater.
Reduced exposure to disease from germs that live on hard surfaces such as the handles, covers, and interior of garbage cans, trash compactors, and trash rooms.
A safer working environment for sanitation workers and their families.
The very best EPA-rated disinfectants with proven efficacy for killing virus-causing pathogens in public spaces such as restaurants, airports, daycare, even school playgrounds.
A collaborative forum for sharing and learning how to conserve our precious resources.
Our Staff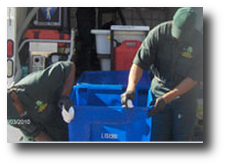 TRASHCO technicians are easily recognized by their uniform with company name and well-marked mobile units. Drivers carry a valid operator's license and technicians are trained in customer service, proper operation of the equipment, and safety procedures. We are licensed and insured.
TRASHCO gives back!
Each year, TRASHCO will donate 5% of its earnings to the Antionette Alicia Williams Memorial Scholarship Fund to assist college-bound students in achieving their educational goals.