Commercial Services
TRASHCO technicians are specialists in all aspects of fleet washing and dumpster cleaning services. We understand the importance of maintaining a clean, safe, odor-free environment for workers and customers and the need for quick response.
What We Offer
Dumpsters, Compactors & Enclosures
TRASHCO's expertly trained technicians pressure wash, sanitize, and deodorize your dumpsters and compactors. We utilize hot water during the washing process and containment berms to control the wastewater overflow. Once the area is cleaned, we reclaim all of the wastewater and debris for proper disposal in compliance with EPA requirements.
What are the benefits to you?
Monthly on-site cleaning on garbage pick up day
Biodegradable disinfectants kill 99% of all known germs, fungi, and viruses, 20 times faster than traditional disinfectants
Reduce rodents, flies, maggots, mosquitoes and other pests
Eliminate odor
FREE water recovery and disposal to EPA standards
Complements LEED Certification and environmental commitment to keeping the planet green
Cost-effective and reliable
Grease Trap Service & Maintenance
When fats, oils or grease (FOG) enter the sewer lines, it cools, solidifies and sticks to the insides of the pipes, trapping food particles and other debris. Over time, this solid mass continues to grow until it obstructs the flow of wastewater and causes sewage to back up. The easiest way to solve this problem is to prevent FOG from entering the sewer system. Grease traps can be effective in controlling FOG. Proper size, installation, use, and maintenance of a grease trap will ensure separation and retention of FOG from wastewater before it enters the sewer system. This is why TRASHCO should be you first choice to maintain your indoor and outdoor grease traps.
What are the benefits to you?
Monthly Maintenance Report
Licensed and Insured
Prevention Programs
24 Hour Emergency Service
Trained Technicians
DERM Approved Waste Hauler
Cost-effective and Reliable
Fleet Washing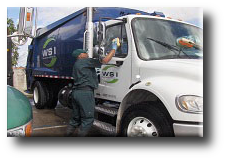 The way your fleet looks as it travels through the local neighborhoods can be a direct reflection on the image of your company. If your fleet is coated in mud, salt, grease and oil, that's what people see and associate with your company. If left to accumulate, the debris can also cause premature wear on vital vehicle parts. Not to mention the potential health risks to workers from the transfer of bacteria and fungi during trash collection. Let TRASHCO's professional staff handle the grimy details on-site at your facility. What are the benefits to you?
Weekly fleet cleaning service. No fleet is too small!
Developed specifically for front, rear, and side loading garbage trucks
Competitive prices & reliable service
Water recovery and disposal per EPA standards
Biodegradable disinfectant kills 99% of all known germs, fungi, and viruses, 20 times faster than traditional disinfectants
Mobile fleet washing is less expensive than doing it in-house
Aluminum Polishing
Drop-N-Go
Founded in 2009, TRASHCO's Drop-N-Go has been in the developmental process for over 6 years. All of our research, hard work and dedication can now be passed on to our customers. Our Drop-N-Go dumpster trailer has many advantages over the traditional practice of dumpster rentals. Our unique trailers have mounted 6 yard dumpsters for easy disposal of waste. Great for the weekend warrior, event planners and family garage clean-outs. No more large, smelly, ugly and damaging roll-off containers in your driveway for your simple projects.
What are the benefits to you?
DIY Projects
Decluttering
Garage Clean-Outs
Event Clean-Up
No Damage to Driveways
Less Expensive
More convenient
Pressure Cleaning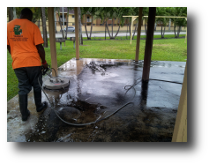 Parking Garages
Pavers & Concrete
Store Fronts
Sidewalks
Porter Services
Monitoring Property
Litter Control
Empty Trash Cans
Handyman Work
Parking Lot Sweeping
Bathroom Hygiene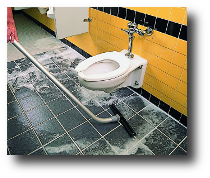 Electrostatic Spraying
No Touch Cleaning
13-Point Cleaning
Restock Supplies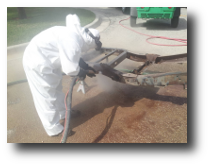 Graffiti Removal
Line Stripe Removal
De-Painting (Any type)
Automotive Stripping
Who We Serve?
Cities and Counties
Airlines
Gas Stations
Corporate Parks
Industrial Parks
Restaurants
Supermarkets
Hotels
Hospitals
Daycare Centers
Strip Malls
Industrial Parks
Solid Waste Haulers
Commercial Property Managers/Owners
Public and Private Schools
Parks and Recreation Facilities
LEED-Certified Facilities
Retail Malls and Outlets
Meat Packing Companies
Wholesale Businesses
Warehouse Districts