Trashco Foundation
TRASHCO gives back!
The Antionette Alicia Williams SCHOLARSHIP FUND
Antionette Alicia Williams was the eldest of two daughters for her mother Julett A. Williams. She was born on September 11, 1986 in Miami, Florida. She grew up in the Miami Lakes area and attended Joella C. Good and Palm Springs North Elementary, Lake Stevens Middle, and American Senior High Schools. In 2005, she graduated from American Senior High in the top 10% of her class.
On November 8, 2009, Antionette was involved in a tragic automobile accident. She touched many lives in her 23 years with her caring spirit and compansionate heart. She is a true blessing to many and will be missed dearly. She was an inspiration to all and will live in our hearts forever. Learn more about the Foundation and how you can help.
A Place To Shower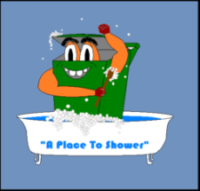 Every morning and every night we take a shower or a bath. We exercise or work in the yard and afterwards we take shower. We play sports or watch our kids play sports and the first thing we tell them when they get home is what? "Go take a shower". Now imagine what it would be like to not have a place to shower or the places you try to shower usually ends up with a police encounter of some kind. This is the everyday life of a homeless person. We take for granted an action so simple yet so far fetched for the homeless. This is why "A Place To Shower" was founded. Offering showers to people without the shelter to do so. Making friends with those who are just like we are. Let's pull together and see what a difference a shower will make. We will start with one trailer equipped with 2 shower stalls and 2 sinks. TRASHCO, LLC will purchase the trailer and donate it to the foundation, but we need funds to buy materials for the build out. We like the kind that folds, but as some of our friends would say, "spare change" will do just fine.