Residential Services
TRASHCO's eco-friendly, biodegradable cleaning process kills 99% of all known germs including H1N1, Salmonella, and MRSA without the use of toxic chemicals that are harmful to the environment. We understand the importance of maintaining a clean, safe, odor-free atmosphere for residents as they dispose of their garbage.
Who We Serve!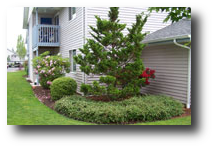 Home owners Associations
Condominium Associations
Single-family Curbside Residents
Multi-family Dumpster Residents
Multi-level Apartments
What We Offer!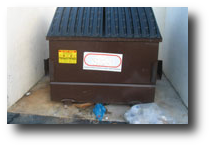 Trash Room & Chute, Trash Can, Dumpster Cleaning Services
Single-Family Curbside Sanitization – trash & recycle bins
Multi-Family Curbside Sanitization – trash & recycle bins
Multi-Family Dumpster Sanitization – up to 40 cubic yards
Disabled Residents – Back or side door pick up
Why TRASHCO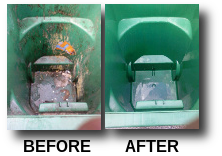 TRASHCO is the only service of its kind in South Florida. Our self-contained mobile cleaning units will come to your home or development on trash pick up day to pressure wash, sanitize and deodorize your garbage cans and recycle bins. Unlike other companies who use recycled gray water, our system utilizes clean water for every container. We are the only company in South Florida to test for bacteria and fungi before and after the sanitizing process.
Independent lab tests results showed seven different hazardous bacteria including E. Coli, Salmonella, and Chryseomonas Luteola before TRASHCO's treatment. The lab tests also revealed several different fungi in the receptacles and on the covers and handles. "There is a dramatic difference between pre and post treatments cultures," stated Dr. J.V. Pisani, Micrim Labs in Ft. Lauderdale, Florida "…there were no grams of negative bacteria present after treatment."
TRASHCO's unique cleaning process and state-of-the-art equipment design is equally effective in washing and sanitizing dumpsters, trash chutes, trash rooms and enclosure areas. All wastewater and sludge are captured and properly disposed of using EPA guidelines, therefore no contaminants enter the city storm drains during cleaning.
Drop-N-Go
Founded in 2009, TRASHCO's Drop-N-Go has been in the developmental process for over 6 years. All of our research, hard work and dedication can now be passed on to our customers. Our Drop-N-Go dumpster trailer has many advantages over the traditional practice of dumpster rentals. Our unique trailers have mounted 6 yard dumpsters for easy disposal of waste. Great for the weekend warrior, event planners and family garage clean-outs. No more large, smelly, ugly and damaging roll-off containers in your driveway for your simple projects.
What are the benefits to you?
DIY Projects
Decluttering
Garage Clean-Outs
Event Clean-Up
No Damage to Driveways
Less Expensive
More convenient